To the donor who gave me a second chance at life
You'll never know who I am, yet you saved my life.
You'll never know who I am, yet you'll be in my heart forever.
You'll never know who I am, but I know who you are. You're my superhero without a cape, "my Englishman," as I call you.
I don't try to imagine how you look like. It doesn't matter whether you have blond, brown or no hair at all, or whether your eyes are green or blue. What I know is that you're a great person. And that is enough for me.
The Gift That Crossed the Channel
From England to France
On November 26, 2018, I was diagnosed with an aggressive form of leukemia. Chemo alone couldn't treat the disease. I was only 45 years old, and a mom of two boys aged 14 and 16. I was desperate to see my children grow up. Just a few days before spring, on March 18, 2019, you made your way to the hospital and donated your stem cells. The magical stem cells that would allow me to laugh with my kids for years to come. The very next day, after a journey by train under the English Channel, your precious stem cells arrived in Paris.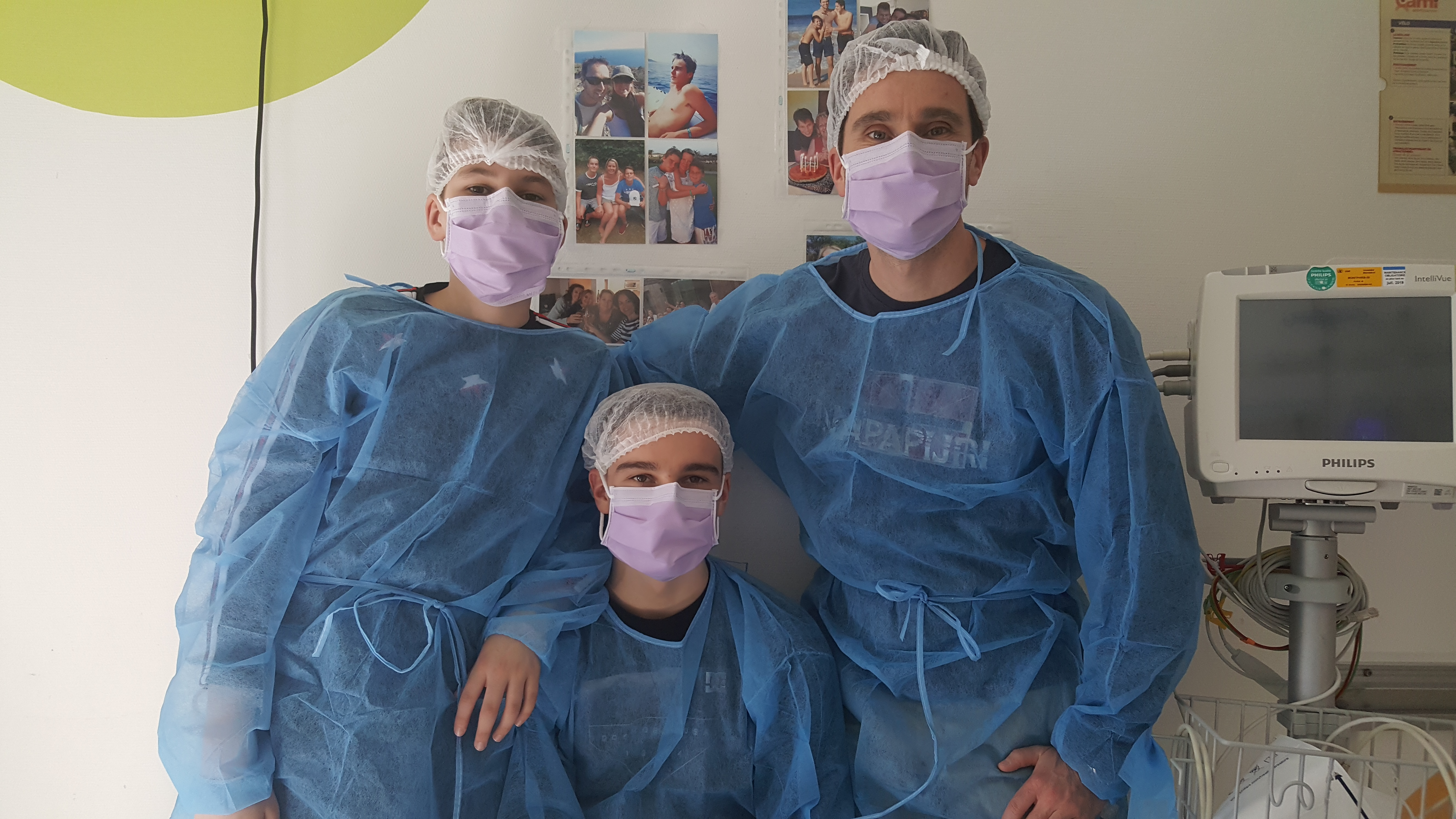 The Loves of My Life
My husband and sons during a hospital visit
Winning the Lottery
I'm an only child. Nobody in my family could give me what you only could. On March 19, 2019, I was reborn and I had gained a brother.
We'll never share Christmas celebrations, and we'll never have a night out at the movies. I'll never hear the sound of your voice during long chats over the phone. But it's your blood that's running in my veins now.
Your stem cells did great work! They made themselves at home in my body and started producing healthy baby stem cells that keep me alive. I knew my perfect match was out there, but I had 1 out of 1,000,000 chances that you - my perfect match - had signed up to become a donor. I literally won at the lottery of life.
Anyone Can Be A Hero
There are no words to thank someone who gave so selflessly. So I do it by laughing, crying… living. And trust me when I say I'm living to my fullest, each day as a renewed gift to cherish.
Anyone can be a hero. It's a choice you make. And by becoming a donor, you choose love. Universal love.
You and I are now forever connected. I think about you each and every day. I know how lucky I am to have a brother who, without asking for anything in return, gave me the most precious gift of all: life.